Notice: Us and UK size just ref, Please based on your foot length, do not choose less than or exactly equal to your foot length size, choose a little more than your foot length.

Footwear Sizing Guide
If you are unsure which shoe size to purchase, please follow the following steps:
Draw a straight line, longer than your foot, on a piece of paper.
Place the paper on a flat surface. Stand on the line with your heel and longest toe centered on the line. If measuring a child's foot, it may be easier to hold the paper up to their foot.
Place a mark on the line at the tip of the longest toe and at the back of the heel.
Repeat steps 1-3 for the other foot.
Measure the distance between the marks. Taking the larger of the two measurements, use the conversion chart to find your correct shoe size.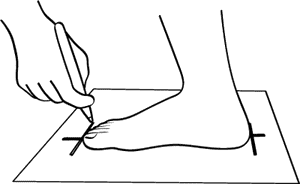 Zanotti
Us
UK
Foot Length
34
4
1
220mm
35
5
2
225mm
36
6
3
230mm
37
7
4
235mm
38
8
5
240mm
39
9
6
245mm
40
10
7
250mm
41
11
8
255mm
42
12
9
260mm
Zanotti
Us
UK
Foot Length
38
5
4
240mm
39
6
5
245mm
40
7
6
250mm
41
8
7
260mm
42
9
8
265mm
43
10
9
275mm
44
11
10
280mm
45
12
11
290mm
46
13
12
295mm
47
14
13
300mm
48
15
14
305mm